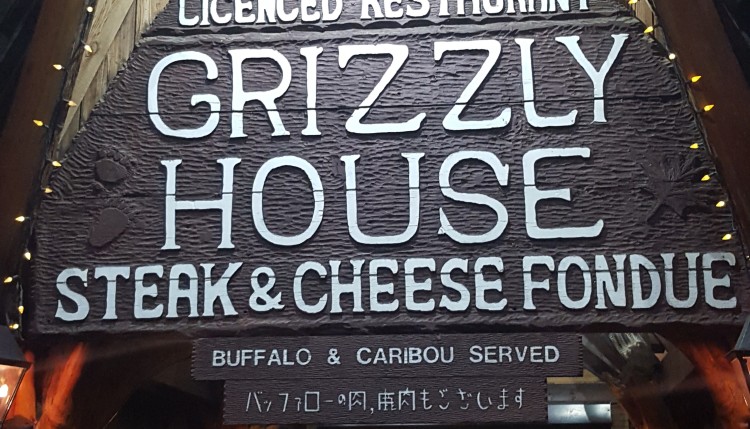 A Grizzly Fondue
What matters to you in a restaurant?
Obviously, the food. I mean that's why you're there, right? But there are other contributing factors – factors that can sway your decision and lead you to eat a crappy food in a room that looks beautiful, or sit in a dive and eat the best meal of your life. Does your mood influence your decisions? Or are your restaurant rules and expectations hard and fast? Are there must-haves? Are there deal breakers?
I spoke with a friend recently about restaurants. She shared with me her must-haves. She needs great lighting. She likes white linen. Her comfort zone is pretty classic French. She wants amazing food (don't we all?) and even if she gets an amazing meal, harsh lighting could stop her from returning.
My friend goes to restaurants a lot. We talked about her favourite restaurants in Toronto and why she loves them. It seems that restaurants are a lot like people. Sometimes you like someone because they impress you, sometimes because they inspire you, sometimes because they challenge you, and often because they are just fun to hang out with.
I had a dining experience with some of my cast mates in Banff recently that got me thinking about restaurants and the dining experience. The restaurant was called the Grizzly House . I don't think any of us had ever experienced a restaurant quite like this.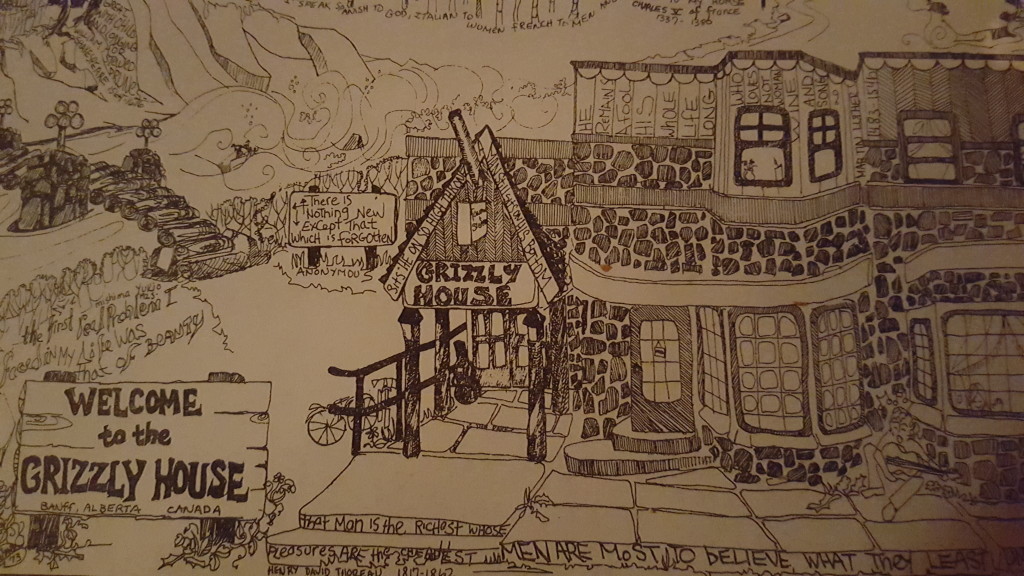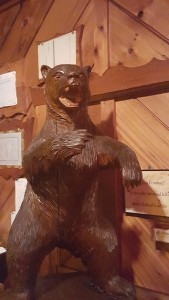 I knew that the Grizzly House was a fondue restaurant. Walking to the restaurant I imagined a French/Swiss rustic aprés ski feel. Lots of wood and fire places. Perfect for a mountain setting like Banff. Well, I wasn't entirely wrong, but I wasn't right either. I was greeted by large wood carvings and Bison heads on the walls. One of them wore a hat.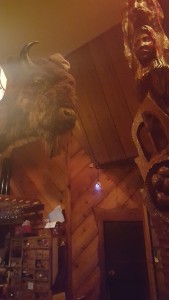 Old fashioned fondue sets were on display and if I wanted, I could buy a pair of pink thong panties emblazoned with the Grizzly House logo. In retrospect I should have been prepared for this. I once went to a fondue restaurant in Paris (Le Refuge des fondus) where I was served wine in a baby bottle with a nipple.
Clearly fondue restaurants are "eccelctic."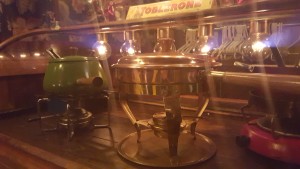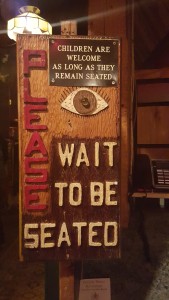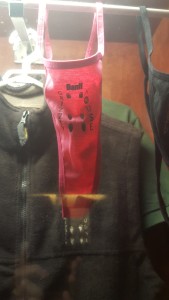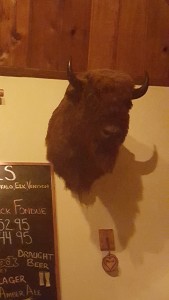 The dining room was rustic and full of wood – tables, chairs, and even the walls. There were telephones by each table. I soon realized that one of my friends was using the phone to talk to another table. The whole room was set up so that tables could interact with one another and share in the fun dining experience that is the Grizzly house.
The menu was full of meat. Classic Alberta beef as well as bison, caribou, and venison. I even saw rattlesnake on the menu! There was also chicken, duck, scallops, alligator, frogs legs and ostrich. A very eclectic menu to match very eclectic surroundings. I think that was intimidating for some at our table. Others were in their comfort zone.
Since there were a large number of us we were able to order lots of different meats and share. Everyone got to eat what they wanted and try something new.
Before the meat arrived we had the choice of a cheese fondue or a vegetable fondue. While cheese seemed the post popular choice, a few of us who aren't so great with dairy ordered the vegetable fondue. It was called Bagna Cauda.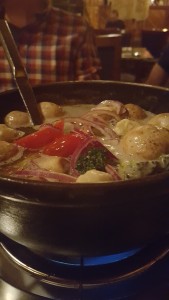 Down at the other end of the table we got looks of pity. The cheese lovers definitely felt superior. What they didn't realize was that the broth for the vegetable fondue was a mixture of butter, olive oil, garlic, and anchovy paste. I would have eaten it with a spoon. Broccoli, red onions, grape tomatoes, cauliflower, and mushrooms cooked quickly in this amazing salty and rich broth. It was liquid gold. Down at our end of the table we knew we had chosen wisely. We had to order some bread after the vegetables were devoured so that we didn't waste a drop. The evening was full of surprises.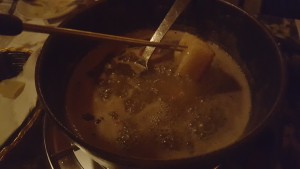 We were brought foudue pots and flat rocks heated to 650 degrees to cook our meats.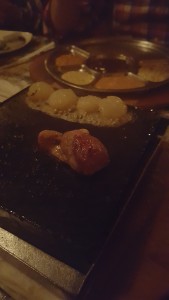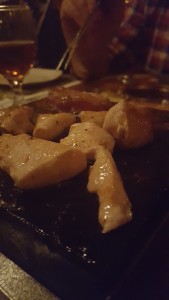 Yes. We were paying money – a good amount of money – to cook our own food. Let's examine that for a moment. Most people go to a restaurant so that someone else will do the cooking for them. Not at the Grizzly House.
We all cooked. We all tasted. It was a weird and wonderful main course.
Dessert came. Classic chocolate fondue with fruit and cookies. So simple. So good.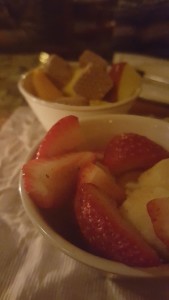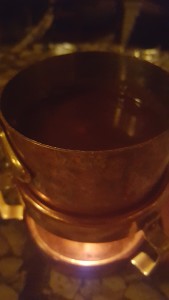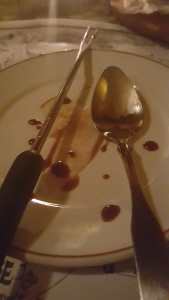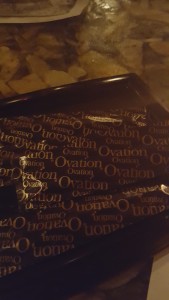 When the server brought the bill, it suddenly felt like 1983. On the tray were Ovation chocolate mints. While a mint is common with a bill, I don't think I have seen Ovation in a restaurant in years.
So if I go back to the idea of what draws in you into a restaurant, and what keeps you coming back, a place like the Grizzly House has me perplexed. Did I like the décor and ambiance…not really my cup of tea. A bit loud. Not much elegance. The food was great and there were options to be adventurous, but I got splattered with hot garlic butter from the cooking stone and I paid a lot of money to cook my own dinner. The wine list was fine and the service was great. If I ranked the restaurant with a standard checklist of my dining preferences, I probably wouldn't return, but how do you rank an experience like this? But did I have fun? Yes. It was fun, unusual, unexpected, and certainly a night to remember. And for that reason I would definitely go back to the Grizzly House.
If in life we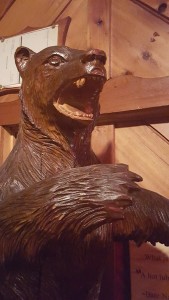 only got what we wanted – or thought we wanted – we would miss out on lots of things that are different, unusual, and unexpected. So, make sure to throw a curve ball into your dinner plans –into your life – every now and again. Go somewhere new and find an uncharacteristic X factor that will keep you coming back for more.