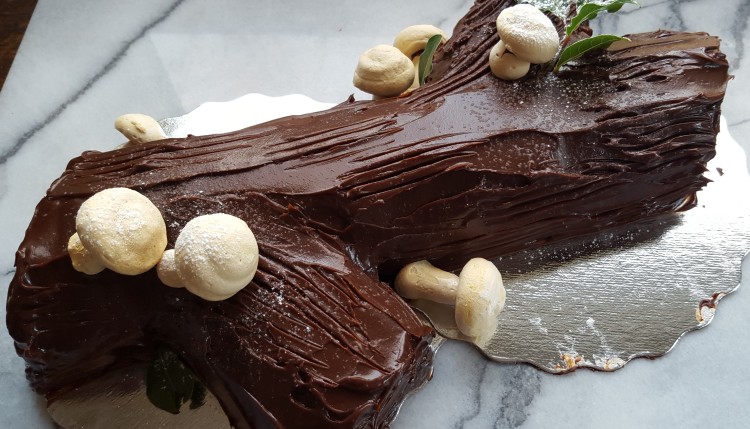 My Bûche de Noël – Adventures in holiday baking
One day my brother came home from school with an assignment. My mother had to make a Yule Log. There was some class party and all the mothers had to make something. My mother had never made one before.
I don't remember her making it. I don't even remember seeing it. What I do remember is hearing over and over about how challenging it was to make. First there was all the drama about a Jelly Roll pan. This was in the 70s, when baking was much less trendy. The poor woman had no idea it was just a rimmed cookie sheet.
In my desire to challenge myself with new baking and cooking projects I felt it was time I gave a Yule Log, or rather a classic French Bûche de Noël a try.
I learned there are dozens of ways to make a Bûche de Noël. Any combination of flavours as long as you make a filled and iced roll. I toyed with the idea of gingerbread, or chocolate raspberry, but finally settled on a classic chocolate bûche recipe that was from Saveur magazine and inspired by the celebrated Paris pastry shop Ladurée.
This recipe tested me on lots of skills and used Italian Meringue as foundation for the filling and the Meringue Mushrooms. It was a stressful but fun filled afternoon as all of the components came together.
Things got rather silly as I tried to replicate 'bark' with chocolate and overall I was happy with the results.
I learned that Toronto is clearly much more humid than the location where the recipe was created because my meringue mushrooms kept turning into marshmallow. I've made notes for next time.
So, that was my big holiday baking project. Here are some pics of my results and a link to the recipe I used.
Did you bake or cook anything adventurous for the holidays? What should I try next? I'd love to hear from you!