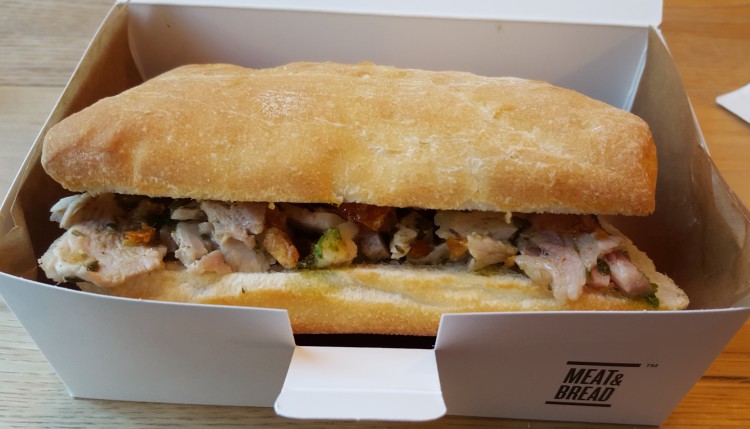 Eating my way through Vancouver – Part 3: Meat and Bread
The mighty sandwich.
As a kid I didn't like sandwiches. That might be a direct result of how my mom made sandwiches.
Mom's recipe: Take two slices of very soft white bread. Spread butter liberally on both slices. The butter should be thick enough you can see teeth marks. Place one slice of cooked ham on one of the slices. Assemble. Cut in half. Put in a sandwich baggie beside a can of frozen orange pop in a paper lunch bag (C-Plus orange pop doesn't explode in the freezer – who knew!) and take to school. The frozen pop gave the sandwich the overwhelming flavour of cold butter. Sigh. Eventually I convinced my mother that cold fried chicken was a better meal for lunch and on the rare occasion I needed to brown bag it dinner the night before was made by the Colonel at Kentucky Fried Chicken.
Sandwiches have changed a lot since I was a kid. And while I am a big fan of breakfast sandwiches, and I have developed an unhealthy stalker –like relationship with corned beef, sandwiches are still not my go to for lunch.
That said, I have a favourite sandwich in Toronto. It is created by Forno Cultura on King St W. This sandwich begins with freshly baked focaccia and is then filled with roasted chicken, shaved fennel, pesto, arugula, and sliced red grapes. The first time I ate this sandwich I was blown away – so much so that I went home and immediately started making focaccia to try to recreate it. I have reinterpreted this sandwich as a salad with the focaccia on the side and have also made it into a pasta dish. I was truly inspired by this sandwich. Being inspired by a sandwich is a surprising feeling.
Recently, in Vancouver I experienced true sandwich love and inspiration with not one, but TWO sandwiches. A friend recommended I go to Meat and Bread. Walking into Meat and Bread I was immediately filled with sandwich excitement. The operation is small. There are 4 sandwiches – one of which changes daily and another one weekly – a soup, a salad, a dessert and…I think that's about it. All sandwiches are served on a ciabatta. It is a boutique of sandwiches.
When I saw the words 'Corned Beef' on the menu the die was cast (I cite aforementioned unhealthy stalker-like relationship with Corned Beef). My friend David ordered their Porchetta sandwich. David and I didn't speak much as we ate. We were quiet…reflective…about the awesomeness we were eating. Let me start with the size. These were sandwiches were actually lunch sized. They weren't huge and unwieldy. They fit in your hands, you didn't have to dislocate your jaw to take a bite, and I didn't need to change into stretchy pants when I was done. My corned beef was tender and served with Sambal Gherkin Mayo, Pickled Cabbage, and Dijon. This was a perfect sandwich. Salty. Tangy. A bit sour. Crunchy. Creamy. Wow. Just wow. Perfectly balanced and well thought out. I worship at the temple of this sandwich maker. That may sound a bit strong, but it's been 3 weeks since I ate that sandwich and I am STILL THINKING ABOUT IT. It's made me rethink sandwiches altogether.
Now while I was over the moon with love for my sandwich, so was David. He swore his Porchetta was just as good – if not better. Wow. Ok. We checked our schedules and determined we could return on Friday. Feeling relieved that this taste-bud-blowing experience was not a one shot deal, we left and headed back to work.
Fast forward to Friday. We both ordered the Porchetta sandwich. I just needed to know.
The Porchetta sandwich is so simple. It consists of Porchetta (which you can see being carved to order), Salsa Verde, and diced Crackling. If you are unfamiliar with Crackling, it is the crisp browned skin or rind of roast pork. Salty, crispy, fatty…probably really terrible for you, but holy crap it's awesome.
What impressed me most about these sandwiches is the love, the thought, the care that went into making them. They were simple and perfectly balanced. They used only a few top-notch ingredients. There was nothing unnecessary, no filler. Everything that needed to be there was there. Sandwich perfection.
Ok, so maybe my new love of sandwiches is burning a bit bright these days, but I feel so inspired by this experience that I don't want to quell it. This experience reminded me that simple is best and balance is key. I have always tried to cook and bake with these guiding principles in mind, but in our #gastroposting society we get so caught up with how fancy and post-worthy things look that we sometimes forget what's really important. I took pictures of these sandwiches. They look…ok. They don't look like pics I would necessarily want to share on Instagram, but these sandwiches are life-changing. Substance over style.
Thank you, Meat and Bread. The next time I am in Vancouver, I will be dropping by for a visit, or 2 (or 3, or 4…).
Below is a mediocre pic of the Corned Beef Sandwich. But it tasted sooooo good.