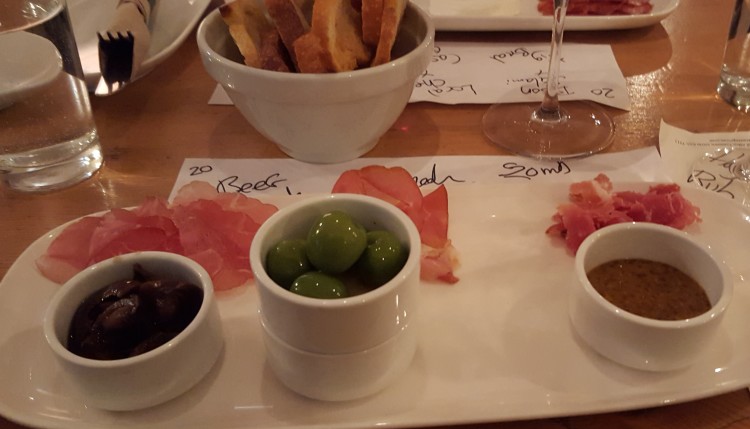 Eating my way through Vancouver – Part 5: Salt Tasting Room
People in my life have suggested to me that I could use a salt like. Like a horse. Well, they're not wrong. I love salt. Love it. I have 6 kinds of salt in my kitchen right now (Maldon, Fleur de sel, coarse kosher, coarse sea salt, fine sea salt, and a blend of fleur de sel and he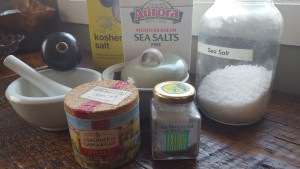 rbes de provence I bought in Paris). I use all 6 on a regular basis and wish I had more types of salt on hand.
Just as 'fat carries flavour', I believe that 'salt makes flavour sing'. I have had arguments – serious arguments that required third-party intervention – about why I love to use salted butter in baking. Sometimes I want salt to be integrated throughout a dish (fine), or have pockets of salt as I eat (coarse), or a delicate layer of flaky salt on top (oh Maldon, how I love you.) My palate is not super sweet and I always enjoy sweet more when it is offset by salty. I remember years ago going in to audition for a commercial. They handed me a bag of chocolate covered pretzels (that food trend was just in its infancy). I was told to open the bag, eat one, and be surprised and delighted by how it tasted (so much so that I wouldn't notice amazing trick waterskiing happening in front of me!). Honestly, at the time, I thought a chocolate covered pretzel sounded awful, but I wanted the job. Well, I didn't have to act. I put that pretzel in my mouth and was blown away. Sweet with explosions of salt. Loved it. I didn't get the job, but I walked away with a bag of chocolate covered pretzels and that was enough for me.
So, when I got to Vancouver and it was suggested I visit a restaurant called the Salt Tasting Room, I knew I was going to enjoy it.
The Salt Tasting Room is unlike any restaurant I've been to and I was relieved and grateful when the server took charge. Basically, the menu is instructions on how to order. There is a chalkboard with the meats, cheeses, and condiments available and you are to select 3 meats/cheeses/combo of both, and 3 condiments. I had never heard of the majority of the items on the menu, so our server was a helpful guide.
I'll be honest, I was feeling worried at the start. I couldn't comprehend how I was going to feel full after eating 3 meats and 3 condiments, but surprisingly, I was wonderfully satisfied and couldn't imagine eating anything else.
I ordered a Bresola that was dipped in molasses before it was cured, a German smoked prosciutto called Schinkenspeck and a 20 year old Serrano ham. My sides were a Guinness Mustard, Cipollini onions in Balsamic vinegar and Castelvetrano Olives. The server matched them all up on the plate and chose which should go with what. Here is what it looked like: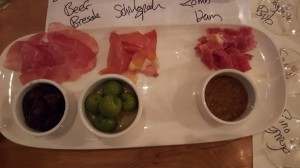 My friend ordered an awesome plate as well, A bison salami, local goat cheese, and a French Camembert with fig bread, salty roasted almonds and Castelvetrano olives (they were so good we both wanted them!) I was grateful that he was kind enough to share.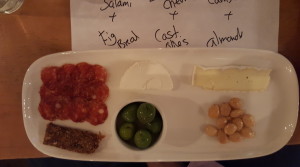 The Salt Tasting Room has amazing food that is proudly local and notably international. It's a beautiful and thoughtful blend. The meal was served with baguette toasts and I had an amazing wine flight that complimented everything. It was like a choose your own adventure (with a really helpful guide). It is a meal I will not soon forget.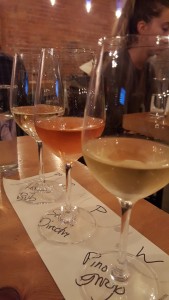 The restaurant is located on Blood Alley. A dark and genuinely scary location. I'm glad it was recommended to me because I would never have found it just walking by. I definitely recommend a trip to the Salt Tasting Room. Because everything is better with Salt.