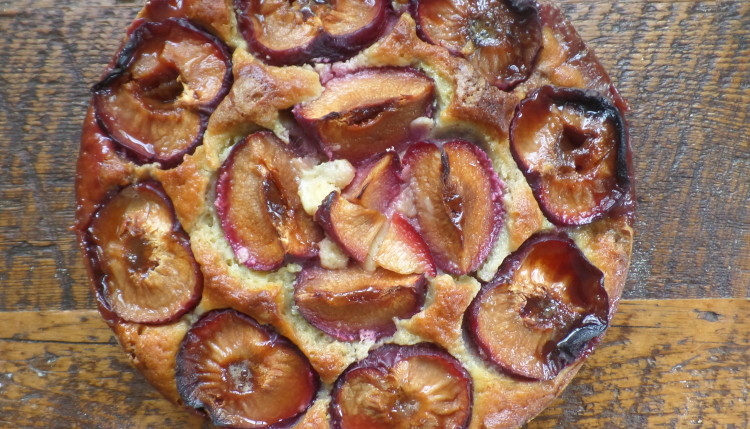 Plum Cake Lady
They call me…"The Plum Cake Lady"
I love to bake with plums. I love to make plum crumble, plum cake, plum pie…once when I was doing a cleanse (no sugar, no wheat, no wine, no dairy, yadda, yadda, yadda…) I discovered that I could oven roast plums with lemon juice, cinnamon, nutmeg and ginger until they got all bubbly and jammy and then, once cool, put them on a rice cake with almond butter. It was really tasty. I called it "detox pie."
I love how tart plums are. I love the colour. I love how they taste like a light summer fruit in July and a rich jammy treat in January.
One of my jobs right now is to be a temp cook. The agency sends me lots of different places – corporate events, private homes, and professional kitchens. My first placement was a week in the kitchen of a very swanky retirement home. All of the 70 residents are quite well off financially and as a result the kitchen prepares fine dining quality fare at every meal. The staff there are lovely and I am always happy when I am asked to go and lend a hand.
After a couple days I mentioned to Chef, conversationally, that I am a baker. He was quite pleased to hear it and every day tasked me with something different to bake. Not everyone on his team enjoys baking so often he has desserts delivered. The first thing he asked me to make was a Hungarian Plum Cake. He gave me the recipe – well, let's be clear, it was a list of ingredients with no instructions – and talked me through the basic steps.
Chef suggested I was free to make the recipe my own, so I added lemon juice, lemon zest, nutmeg, and ginger. I made the plum cake that I would want to eat.
That evening during dinner service the servers came back to the kitchen over and over to tell me how much the residents were enjoying the cake. I was very pleased.
In the few weeks that I was there I made lots of different desserts, but the residents kept asking for plum cake. After a few weeks away from the home, I was sent back. Prior to dinner service the servers kept coming into the kitchen to tell me the residents were all a buzz…the Plum Cake Lady was working!
I was back working there yesterday and once again, word circulated that Plum Cake Lady was back. I grabbed all the plums from the cooler and got to work.
As a temp you generally don't get to build a relationship with people. You're called in when it's busy, you do what is asked of you, you try not to piss anyone off, and you go home. In this case a plum cake, a simple, rustic, jammy, tart plum cake helped me connect with both the staff and the diners. What can I say, it's a cake that brings people together.