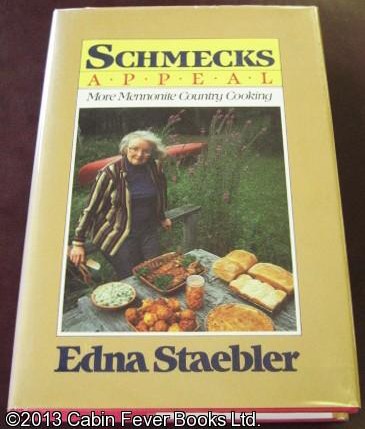 Edna Staebler taught me to bake.
Sometime in the mid-eighties, I'm not sure exactly when my mother purchased the cookbook "Schmecks Appeal." Following that she also bought Edna Staebler's earlier books "Food that really Schmecks" and "More food that really Schmecks," but "Schmecks Appeal" was the book in our house that started it all.
My mother, a perfectionist baker, would always test a recipe before ever serving it to anyone. This book changed all that. We found that with Edna you could make the recipe for the first time and it would always turn out right.
What I find most satisfying about Edna's recipes is that the ingredients are pantry staples – items you always have on hand – so you can be spontaneous and decide that you want to make a cake, and just make it! Many times at about 9pm I would think "it would be nice to have baking at work tomorrow" and by 10:30pm my coffee cake, or loaf was finished. Straightforward, reliable, and stress-free.
To be completely transparent, I should mention that I have focused on the baked goods in "Schmecks Appeal" and haven't made many of the Lunch or Dinner recipes (although as I write this I'm thinking I should. Why the heck haven't I??)
One of my favourite features about this book is that in addition to standard chapters like "Coffee Cakes," "Quick Breads," "Cookies," "Cakes," and "Pies" she also includes a chapter for Rhubarb and a chapter for Plums. These two fruits are so wonderfully tart and flavourful. I love that she feels so strongly about them that she gives them such importance. Whenever I pull rhubarb from my garden, the next thing I pull is "Schmecks Appeal" off the shelf, and I go straight to the rhubarb chapter. Her "Divine Rhubarb Pie" on page 243 is spectacular. If you love rhubarb, make this pie.
Edna's instructions are succinct and straightforward. Not precious in any way, these recipes are easy to follow whether you are an expert or a novice. I can truthfully say that because I was in my early teens and certainly a novice when I first used this book. And her notes about the recipes are charming. You get a lovely insight into her life and her friends.
I know I'm not the first to sing the praises of Edna Staebler. She was an award winning author and literary journalist and she was published in top Canadian magazines and newspapers such as Chatelaine, Macleans, and Readers Digest. She died in 2006 at the age of 100.
These days food is very sexy. There are cooking shows all over the tv and internet, new cookbooks with mouth-watering photos of drop-dead beautiful dishes, and just look the food porn all over Instagram! "Schmecks Appeal" isn't a very sexy book. There are no pictures and the writing, while charming, is instructional. I'm currently reading (and loving) Ruth Reichl's new book and am continually noticing her use of the phrase "slick the pan with oil". Sure, that's accurate, but it's also very sexy. It's very visual. Edna says "butter the pan." Accurate, yes, but not terribly sexy. I want to inspire people to keep using this book. The recipes are delicious and won't let you down. And you'll become a more confident and less stressed baker.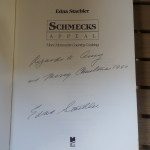 When I moved out of my parent's house in the fall of 1990, I asked if I could take "Schmecks Appeal" with me. Reluctantly, my mother said yes. That year for Christmas she stood in a line and scored me my own autographed copy. It was a very lovely gesture, but I t
hink she just wanted her own copy back.
Here are a few of my many favourite recipes from "Schmecks Appeal":
Buttermilk Tea Biscuits – p.138 *I remember cycling to the grocery store at 6am once for buttermilk because I really wanted these biscuits for breakfast.
French Coffee Cake – p. 159 *Fancy to look at, easy to make.
Quick and Spicy Coffee Cake – p. 162 *I have made this recipe at least a hundred times. I wrote a note in the margin: "Keep the topping to the sides!"
Blueberry Coffee Cake – p.165 *or raspberries, or strawberries…whatever you have a bag of in the freezer
Applesauce Nut Bread – p.171 *For some reason we never put nuts in this. Hmm. Make it at night and slice it in the morning.
Eggless, Butterless, and Milkless Cake –p. 207 *because you can.
Feather Light Chocolate Cake – p. 209 *This was the standard birthday cake in our house for years.
Peaches and Cream Pie – p.226 *When peaches are in season, make this pie.
My Own Plum Muffins –p. 232 *Delightful at Christmas. Or anytime, for that matter.
Divine Rhubarb Pie – p. 243 *aptly named
The chapter "For Children by Children" – p. 270-275 *My favourite recipe is on p. 274. It is a recipe for "Toast". It seems pretty foolproof. *While a few of these recipes seem straightforward, I wouldn't recommend making the majority of these recipes as you need some unusual ingredients (e.g. 1 whale, 1 cup of elephants, 2 cups of clocks, 1 cup of snake skin, 1 cup of clean snow), but they are a joy to read.
---