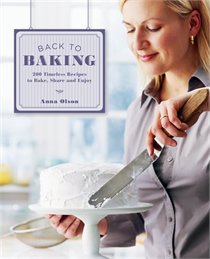 Cookbook Review – Back to Baking by Anna Olson
When I need tried, tested, and true, I reach for Anna Olson's book Back to Baking.
I bought this book when it was published in 2011 and the pages are sticky with the delicious fruits of my labours.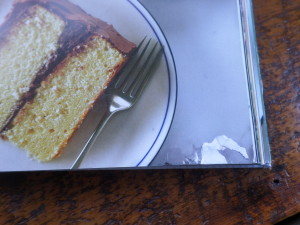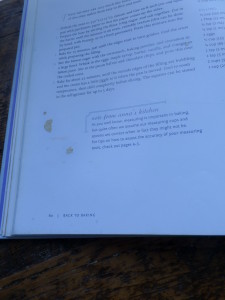 I have lots of baking books filled with incredible recipes. When I go to the cottage, or work out of town for more than a few weeks, this is the book I tuck into my suitcase – and let's be clear, it's a large hardcover. I sometimes have to sacrifice a pair of shoes to bring it!
Why has Back to Baking traveled with me so much? Because it is so versatile. Back to Baking is filled with recipes for any occasion or situation. Rather than a recipe for blueberry pie, and raspberry pie, and cherry pie, and peach pie…she gives you the basics for making a pie and then adds a chart with the ratios for fruit/sugar/starch/flavourings. So easy, so clear, and so freeing. She gives me enough information to know that I will get a great result and enough freedom to make each pie unique and special in the way that I want it. The book is also filled with clear instructions, helpful tips, and it begins with a baking textbook that covers a whole whack of baking basics.
If you want to make a fancy cake for a special occasion, there's a recipe for that. If you want to make a simple cake to have with tea in the afternoon, there's a recipe for that. If you want to make your friends and co-workers swoon, make the Maple Pecan Chocolate Squares on page 60. If you want to blow people's minds – eves the gluten-free peoples – make the Flourless Chocolate Torte on page 134. If you want to make a pot of tea and eat a plate of scones with jam and cream all by yourself, make the Currant Scones on page 226.
These days there are so many people with food preferences and restrictions. I know many people find it hard to cook and bake with these preferences and restrictions, but Anna Olson makes it easy. She has created recipes that accommodate dairy-free, egg-free, gluten-free, low-fat/low-sugar, and many recipes are, or can easily be made, vegan. I now have delicious go-to recipes that work, are easy, and use ingredients I already have at home. As well, the manner in which Anna Olson inspires me with confidence so I can boldly make adjustments to personalize my confections for my guests.
I have watched Anna Olson's tv shows over the years. Anna was the person who made me feel that I could make croissants. She made it look so straightforward and easy. I also have her books Sugar and Another cup of Sugar. Anna's style is practical, approachable, and expert. She absolutely knows what she is talking about and can inspire even the most novice of bakers to feel confident. When I need to make something I've never made before, I go to Anna first to see if she has a recipe. I know that if I start with her recipe I will be able to master the skills and techniques required and will then be more free to play and experiment.
I think everyone should own this book. Our lives would be sweeter for it. If you do buy it, here are some of my favourite recipes to start with:
Chocolate Shortbread Meltaways – pg 27
Delectable Fudge Brownies – pg 53
Maple Pecan Chocolate Squares – pg 60
Two-Crust Caramel Apple Pie – pg 86
Fresh Fruit and Cooked Fruit Pie charts – pgs 88-91
Flourless Chocolate Torte – pg 134
Rich Vanilla Cake with Fudge Frosting – pg 142
Lemon Layer Cake with Lemon Curd and Buttercream Frosting – pgs 146-7
Lucious Vanilla Cheesecake – pg 160 (OMG, the best cheesecake I have ever made or eaten!)
Currant Scones – pg 226
Dairy-free, egg-free Pie Dough – pg 263 (great for vegan pies and squares!)
Blueberry Coconut Custard Mini Tarts – pg 278 (a fantastic vegan dessert)
Warm Chocolate Cherry Pudding Cake – pg 282
Chewy Brownies – pg 291 (Awesome and Gluten-free!)
---