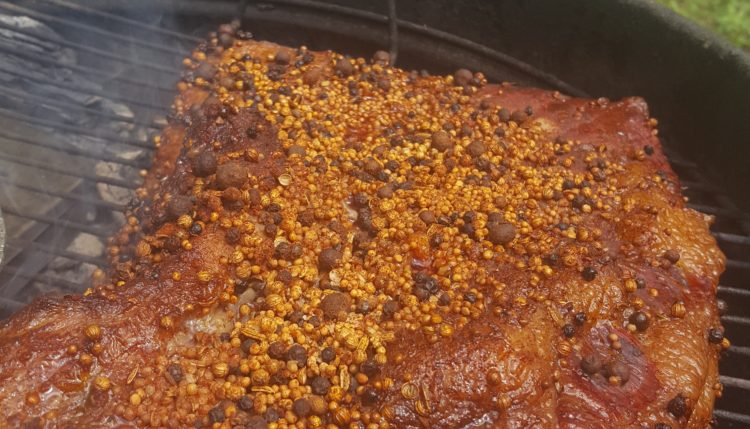 2
My cottage brisket
Every summer needs a cottage vacation.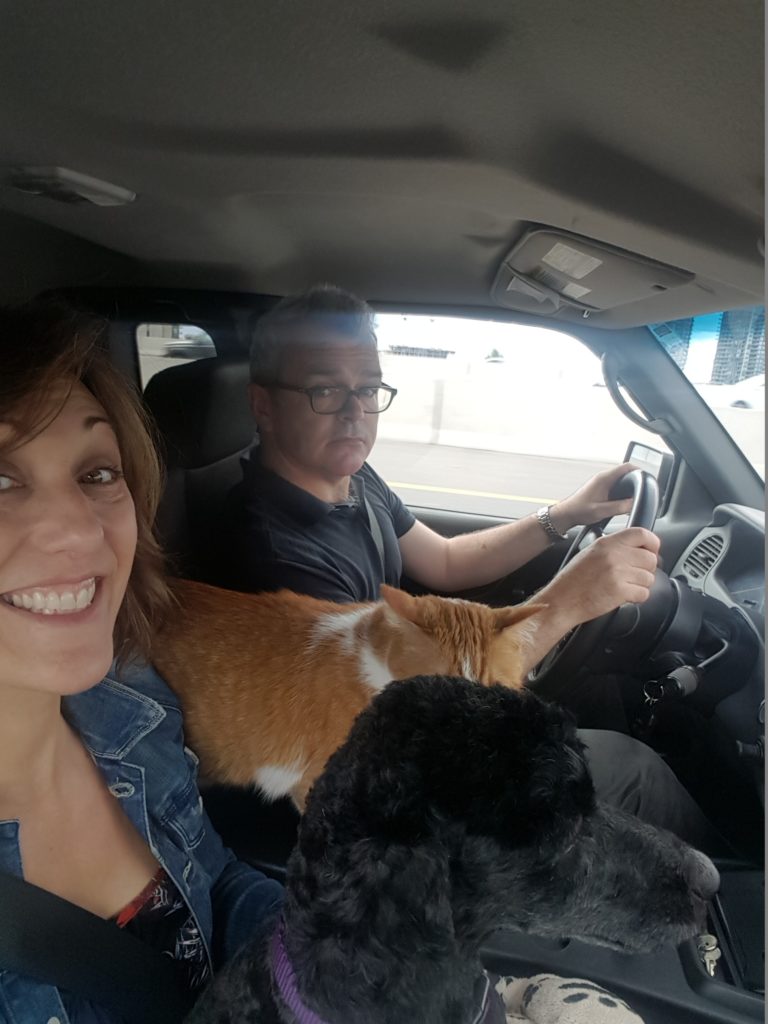 I am blessed and grateful that Thom's family shares a wonderful cottage just north of Muskoka. Wood walls, a retro cottage-y atmosphere, a record player with all the best records (Tom Jones, more Tom Jones, Jacques Brel, and our newest addition – Robert Goulet!), a lake for swimming, skiing, and boating, and a kitchen that invites me to cook. We've been up north in Thunder Bay for almost a year now, so we piled the poodle and the orange car into the pick-up truck (with our awesome new to us circa 1993 truck cap!) and headed south. And we invited some friends up to share a few days with us at the cottage.
I love cooking for a group of people. I have been cooking for these friends for so long – see my Turducken blog post – that I often try new things and am ok (well, sort of) if it all goes horribly wrong. There will always be something to eat. And if not, there's always wine and chips.
I was excited to share a bit of Thunder Bay with my friends and so I packed the cooler with Signature Steer beef from Thunder Bay. I started working for this amazing beef company and restaurant (Uptown Cut) last fall. The beef is out of this world. They keep the stress low on the cattle (and treat them really well) and the result is a steak that is full of flavour and melts in your mouth. You can read all about it on the website. Before we headed out of town, I picked up a brisket and some cowboy steaks to share.
If you're curious what really awesome beef looks like, here's what I've been cooking with lately:
If at first you don't succeed…
A few years ago I tried smoking a brisket at the cottage. One of my fatal flaws is that I am loathe to ask for help. So, the first time I guessed at how to convert a charcoal barbeque in to a smoker. Long story short, I took an entire day to make nice smelling shoe leather. I was determined to do better this time. Do better with help from google. The internet really is amazing. Everything is on there. (Dear god, I sound like an old lady!)
In my search, I found some extremely helpful tips on the Weber BBQ site and Thom and I got to work setting up the grill.
Those who know me know I have something of a cookbook addiction. I am always on the hunt. A few months ago at the Thunder Bay Value Village I found the Mile End cookbook – amazing recipes from Brooklyn's Mile End Deli. Having only so much space in the pickup truck for our Southern Ontario adventure, I had to limit the number of cookbooks I brought with me to three. Mile End had a great looking recipe for brisket – as well as pickled beets and challah bread – so it definitely made the cut for good cottage eats.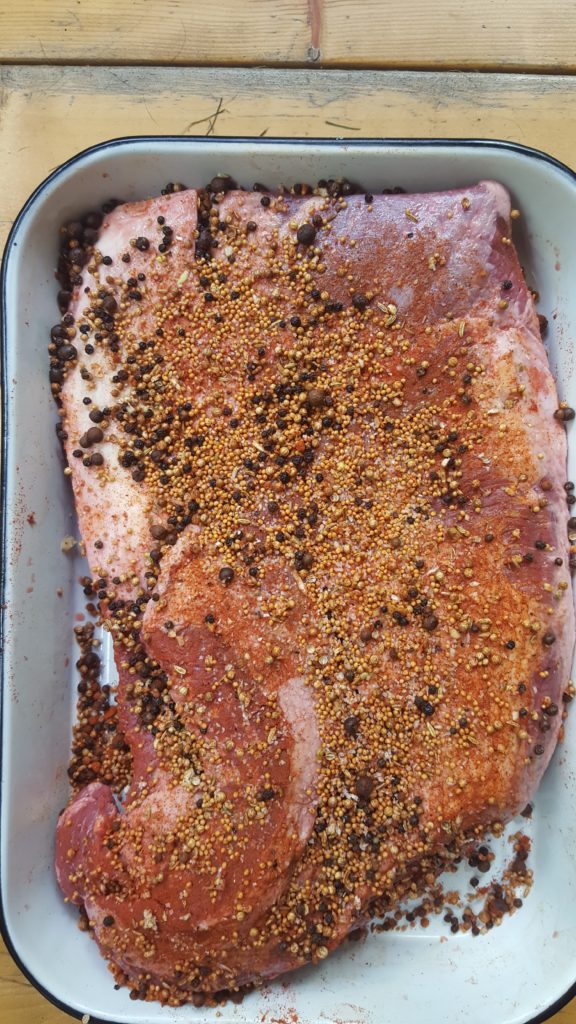 I opened the book to the brisket recipe only to see that I was supposed to cure the brisket for 2 weeks before starting. Since the brisket was planned for dinner the next day, I skipped that step. Instead I just made a dry rub (I did a combo of the dry rub and the curing spices) and let it rest overnight. The next morning after breakfast, I got to work. Hot coals, wet mesquite chips, and water. Add brisket, and then tofu. Wait, what??! Tofu????? Yes. My dear friend who is vegan couldn't miss out on the fun. Mid-afternoon I dry rubbed some extra firm tofu and put it on the grill, too. Hours passed. Literally hours. So many hours that we filled with swimming, laughter, and general silliness. Sometimes I worried the smoker was too hot, or not hot enough. I adjusted the vents hoping I wasn't screwing it up. Late in the day I went into town to buy a new meat thermometer because I couldn't (and am glad I didn't) trust the old one I found at the back of the kitchen drawer. But it was all worth it.
I am delighted to report that this time, I did not make shoe leather. I made delicious, succulent, melt-in-your-mouth brisket. I knew my Signature Steer beef wouldn't let me down, and I am glad I finally asked for help from google. And the aroma. Oh sweet jebus! The aroma.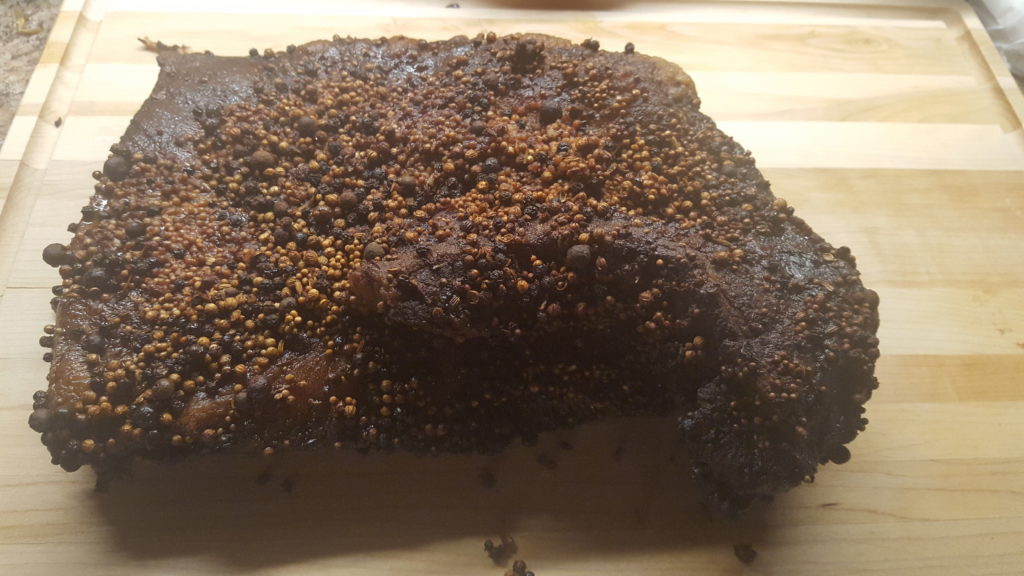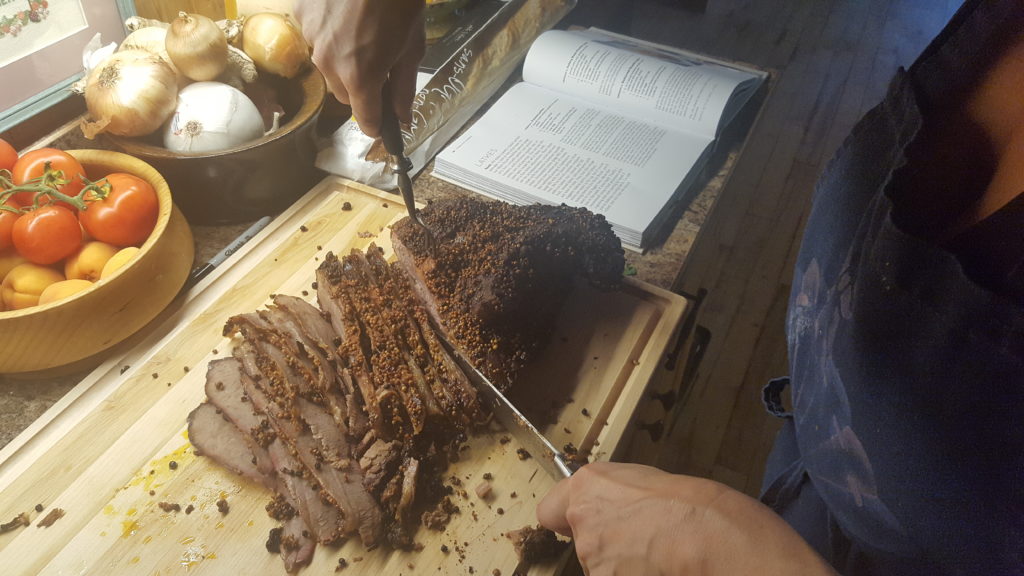 I could have easily looked at my first brisket attempt as a complete failure and given up on brisket forever. I am so glad I didn't. My first brisket wasn't a failure, it was a learning opportunity. And now, having learned successfully how to cook a brisket, I am grateful that I asked for help and tried again.
Oh, and the tofu was good too!