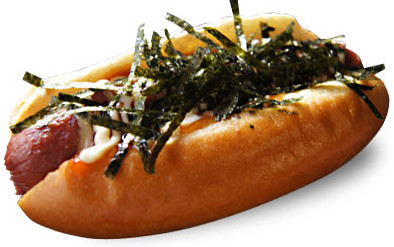 Eating my way through Vancouver – Part 1: Japadog
One of the best parts of travelling is eating. If you dine in local eateries and avoid the chains you can experience a new point of view and different ingredients than you might be used to.
Recently I traveled to Vancouver for some corporate work. I took advantage of this opportunity to explore the culinary scene. While I didn't have a lot of time, I did my best to get out there and eat. Sadly there are only so many meals you can eat in a day (although I did have 2 lunches one day. I felt I had no choice!)
I left Vancouver feeling inspired to think of food differently and make a few Vancouver inspired dishes in my own kitchen.
Because good food should be shared, here are the details of where I went and what I ate. Maybe this will inspire you to go to beautiful Vancouver, or try some Vancouver inspired dishes of your own. If this post inspires anyone to open a Meat and Bread franchise in Toronto, I want in on that!
I think this post will be a few posts, so stay tuned for the whole Vancouver eating festival.
When I first arrived I was starving. Air Canada has cut the free pretzels. Damn you Air Canada! It was a 5 hour flight! I fully expected some free food and wasn't prepared to pay for airplane food ($3 for a tiny can of Pringles!), so I was ravenous when we landed. After checking into the hotel, I went hunting for lunch.
I had scouted out a few options with the map they gave me at the front desk. I was near the Japadog cart at Burrand and Smithe. I had to give it a try. To be clear, I love hot dogs – especially street hot dogs. I know what everybody says about hot dogs being made from lips and nether-region parts, but I don't believe it. My dad worked at Canada Packers when I was a kid and we ate Maple Leaf Hot Dogs all the time! He assured me that it was all Grade A beef. So, a hot dog with a twist…Bring it on! Japadog's menu is traditional pork and beef hot dogs served with Japanese toppings (e.g. kimchi, wasabi mayo, seaweed, miso sauce…). There are so many different variations. Feeling overwhelmed I picked the most popular, figuring that if everyone else liked it I couldn't go wrong. I selected the Terimayo –Japadog's Signature Hot Dog: Teriyaki sauce, mayo and seaweed. According to Japadog, it's a winning combination. Well, I wasn't fan of the seaweed. Maybe it's just my Ontario tasebuds, but the pork wiener and the sauces were great! And unexpected. Now, let's be clear, I was starving. I stood on the street and inhaled this hot dog in less than 3 minutes. I'm not proud of that, but I felt no other option was possible in that moment. Hunger won. I will visit Japadog again – the next time I am in Vancouver – and try some of their other combinations, but more than anything the experience made me revisit the humble hot dog and I'm starting to wonder if maybe during all of those years when I was saying "just mustard please," I was missing out. Japadog, you've inspired me to give the Hot Dog a makeover.
Now, I wish there was a picture of my Japadog, but quite frankly I was too hungry to waste time with pictures. But here is their website: http://www.japadog.com/
Check them out!
Stay tuned for more of my eating escapades!