How-To: Pastry that will change your life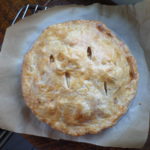 Servings
1
double crust pie
Servings

1

double crust pie
Servings

1

double crust pie

Servings

1

double crust pie
Servings:
double crust pie
Pastry needs to cool before it can be used. Often, if I know I am making pies later in the day, I will put the pastry together first thing in the morning while I am waiting for the kettle to boil. That way it has plenty of time to chill. Pastry is about feel and texture. Once you get a sense of how it should feel, you will be able to make fail-proof pastry in minutes.

Before you begin, notice if your hands are warm or cold. If your hands are cold, you're ready to begin. If they are warm, run them under some cold water to bring their temp down. You want cold hands so you don't melt the butter/shortening. It's the clumps of cold butter/shortening melting in the oven that create flakiness in pastry.

Measure the dry ingredients into a large bowl. If you know you like things salty you can add a bit more salt and reduce the sugar a bit (don't eliminate it altogether as sugar adds colour when the pies bake). Alternatively if you are using this pastry to make a sweet pie you can lessen the salt and add more sugar. (Don't eliminate all the salt because it adds great flavour)

Add the butter/shortening. You can use either or both. Shortening makes for a flakier pastry but butter enhances the flavour more. That's why I like both. Generally I would use 3/4 cup butter and 1/4 cup shortening, but there's no hard and fast rule. Use what you have in the quantities you prefer. As for salted/unsalted butter, I always use salted butter because I love salt. If you prefer unsalted, that's fine too.

When working the butter/shortening into the flour, use your fingertips. You don't want the butter/shortening to melt. Break apart the butter/shortening until the pieces are no bigger than the size of pecans.

Once you have an even texture throughout, add the water. Add it in small amounts mixing together with your hand. You want all the flour to be incorporated but you don't want the dough to be wet. It will still be sticky.

Dust your counter or a large board with flour. Tip the pastry out onto the flour and knead a little bit. The goal is to bring the pastry together so the fat is incorporated. You want to make it smoother and not crumbly, but not warm up the butter/shortening too much. I use the heel of my hand to smear the pastry across the counter a few times. Work quickly. Too much kneading will make the pastry tough. Form the pastry into 2 equal balls , flatten them into discs, wrap in plastic wrap and put in the fridge for at least 2 hours.

When you are ready to roll out the pastry, roll out the dough on a floured surface. I use bread flour for rolling, but if you don't have any on hand, all-purpose will work just as well. Roll it out to just less than a 1/4" thickness.

Fill as desired. There are lots of recipes online. Just figure out what you want the filling to be and then Google a recipe to find out the proportions and any other ingredients you'll need. For a fruit pie you will need usually about 6 cups of fruit, some sugar, a thickener (cornstarch or tapioca starch) and some additional flavouring (lemon, vanilla, cinnamon, maple...)
If you are making this pastry for the first time, or have had many failed attempts at making pastry in the past, you can add 1 tbsp of white vinegar, or very cold vodka. You will not taste the vodka or vinegar in the pie as they will evaporate in the baking process. What the vinegar or vodka will do is help prevent gluten strands from forming. A novice baker is prone to overwork pastry and this trick is like training wheels for a bicycle. It will help you to get to know how much to work the dough without damaging the finished product. As you get comfortable you can use less and eventually eliminate it altogether.